Discover more from VIBES
The musings of Suzy Starlite and Simon Campbell. Here you will find a music-inspired podcast plus articles about life, culture, music and current affairs in a thoughtful and (hopefully) amusing way.
These guys raise a lot of money for charity!
The Poor Man's Band have been rocking out for over 50 years and have raised thousands of pounds for people who really need the support.
A few weeks ago we were contacted to book a surprise recording session for The Poor Man's Band to celebrate the 70th birthday of co-founder Gary Steel. His children and partners wanted to book him an experiential gift that they knew he would treasure.
The band was formed in Scotland by John Corrigan and Gary, who recently celebrated over 50 years of music and friendship together.
A few secret phone calls, one birthday party and a surprise present reveal later the planned day arrived and in rocked a friendly band of men plus their wives to start a three-day musical adventure in the Supertone studio… and what a great time we had!
Gary is the lead vocalist of the band with John on guitar and mandolin, Ulf Baggström on drums, Euan Pyper on percussion, Bob Beatson on keyboards and Keith Roberts on bass.
Most of the band had not recorded in a studio before so to get everyone settled in we worked out the floor plan, set up their gear and mic'd up amps and drums. Ulf was using our in-house Sakae drum kit so we had already preset the kit and mic's before he arrived to save time.
The most important thing for Simon and I was to make sure everyone felt relaxed and at home. Recording can be a tricky business, especially if you're not used to hearing the way you 'sound' in a recording.
When we were all set up - it was time to run through the songs so that the guys could get used to hearing each other in the room. The studio is a good 120m square with a high 5m wood ceiling so the volume of air is big enough to give you enough space and a really good sound that is not too reverberant.
Friday the guys had an early night ready to be fresh and frisky for Saturday morning when it was time to get down to business.
Some kind of magic happens when you lose your self-consciousness and immerse yourself in the music; time melts and before you know it you come out the other side having experienced something majestic and life-changing.
VIBES is a weekly, reader-supported guide to life, culture, music and current affairs. Both free and paid subscriptions are available. If you want to support our work, the best way is by taking out a paid subscription.
---
We were all focussed and the guys were well-rehearsed and really easy to work with so the session ran smoothly.
You always need to allow a little time for experimentation in case you think of a new idea or for problem-solving when something unexpected arises and doesn't quite sound right.
Recording music is like a painting - you need to give space for each instrument to breathe and it helps if the musicians listen to each other when playing so that they are aware of the bigger musical picture.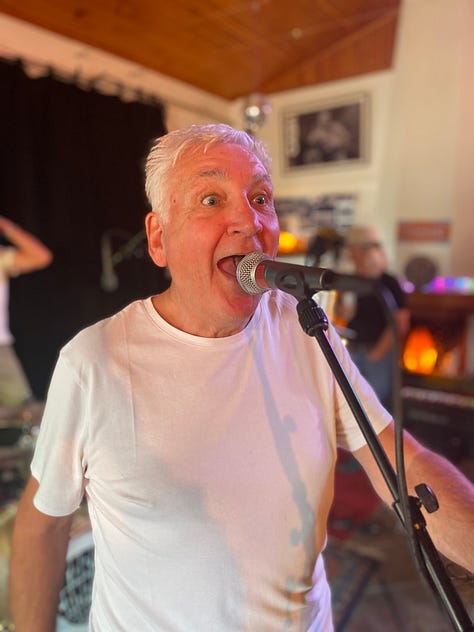 We recorded (tracked) four songs on Saturday and Simon mixed & mastered the songs on Sunday.
The Poor Man's Band - Charity EP
The Poor Man's Band are now based in Portugal and do not earn anything from their performances. They only play for friends and to raise money for local charities. While they never charge a booking fee, they do ask that their audience donate whatever they would like to give to the charity they are performing on behalf of. They also told me that they make a note of not playing venues where full-time musicians play on a regular basis so as not to adversely affect anyone's income.
Recently, the band have been involved in fundraising for Ukraine, and together with another fundraiser, have been able to contribute over €10k to assist a Ukrainian gentleman (Roman) and the ORANTA Charity in converting SUV vehicles into ambulances, which rescue and transport injured people in Ukraine to hospitals.
Gary decided that he wanted to do something good with his birthday recording gift and has set up a Go Fund Me Page where, in exchange for a donation, you will receive a stream or download of the band's new four-track EP and help raise funds to support Roman and his essential work.
Here is the link to their Go Fund Me page. Once you have donated, they will send you the password for the stream/download link.
---
---
We had such a great time working with the guys and finally, thank you to their wonderful wives (L-R) Sandy, Pat, Debbie and Ealasaid for being so friendly and supporting their husbands on their musical adventures in the studio.
Simon and I have made some great new friends and as Johnny Belew from Muscle Shoals says "The circle gets bigger!"
And finally
We love music, the joy that comes through making it and hopefully, those who listen. This session really lifted our spirits and look forward to the next time.
---
Working on: New album Starlite.One - which is now available to pre-order.

Listening to: Born Free - Matt Monro

What's cooking: Pasta with courgette and garlic - delicioso!!
---
VIBES is a weekly, reader-supported guide to life, culture, music and current affairs. Both free and paid subscriptions are available. If you want to support our work, the best way is by taking out a paid subscription.