Discover more from VIBES
The musings of Suzy Starlite and Simon Campbell. Here you will find a music-inspired podcast plus articles about life, culture, music and current affairs in a thoughtful and (hopefully) amusing way.
Commissioning a new custom electric guitar: part one
How many instruments do you need? Do I have a nasty case of GAS? Does the wood really matter in a solid body guitar? All these questions and more, are answered below.
As with most of the gear we own, I treat instruments as tools and rarely become emotionally attached to them. There are of course notable exceptions, one being my first 'real' guitar - the Gibson Flying V - but in reality, not that many.
Our armoury of musical equipment gradually changes and morphs in response to both our musical direction and studio needs, selling and buying as we go whilst trying not to succumb to a nasty case of GAS (Gear Acquisition Syndrome).
In January, I published a similar piece about my acoustic journey with Fylde Guitars which our readers seemed to enjoy and thought it would be fun, plus hopefully informative, to talk about the rationale and methodology behind the commissioning of a new electric instrument.
Published in two parts - welcome to part one.
Starlite.One
On our new album - STARLITE.ONE - I used a variety of acoustic and electric guitars but principally the Duesenberg D6 Baritone, Fender Custom Shop Nocaster relic, Gordon Whitham custom Stratocaster and Gibson Custom Shop, double cut, Les Paul Special (P90s); all of which feature bright, single coil pickups.
The best way of illustrating of course is by listening to what I am talking about and here is - Saving Me - the first track from the album featuring the Nocaster on the opening riff, Tarantino-style Stratocaster in the middle eight and the Les Paul on the last section and the single note chorus motive - recorded very fucking loud!
Suzy captured me recording the outro on the Les Paul - parental warning - I am wearing a skirt, but WTF, I am of Scottish blood.
Moving swiftly on…
For the next couple of years, we will be touring the album and want to reduce the number of guitars taken with us. I will need the Duesenberg D6 baritone for sure, but required something that could cover most of the other bases.
I use extensively use a vibrato arm (sometimes, but incorrectly called a tremolo arm) on chords and am using a lot more gain/drive pedals for some of the tracks.
Vibrato deals with change in pitch. Tremolo deals with change in volume.
Single coil pickups can be noisy - especially in conjunction with high gain pedals and the fact that I play very fucking loud (did I mention that before) plus when rocking up at unknown venues where the earthing, power and/or lighting rig can be a bit dodgy - so humbuckers are the preferred option.
Style
The new album is Art/Progressive Rock and part of the whole Starlite.One concept, hence the live visuals are really important.
Suzy is a Mike Lull artist and has her very own thunderous T4 Starlite model, which is based on a Gibson Thunderbird but with better balance.
All of this leads us to the Gibson Firebird as it fits the tone bill and thought it would be great fun to have the same colour and body shape as my wife.
Serendipity - form and function!
The Firebird
If you know anything about rock 'n roll history, the 'minds eye' image you are likely to have of this eclectic instrument is of Johnny Winter rocking the shit out of it.
---
Gibson had made forays into radical body shapes - the Flying V and Explorer in the 1950s - which met limited initial success. The president of Gibson, Ted McCarty, hired car designer Ray Dietrich to design a guitar that would have popular appeal.

Under Dietrich, the Firebird took on the lines of mid-50s car tail-fins. Dietrich took the Explorer design and rounded the edges. The most unusual aspect is that the guitar is 'backward' in that the right-hand (treble) horn of the body is longer than the other. Thus, the original Firebirds were unofficially referred to as 'reverse'. | Wikipedia
This iconic instrument has been featured on many great recordings and used by a bevvy of beautiful guitarists.
Eric Clapton famously used a Firebird I in Cream and Blind Faith. Tom Petty and Mike Campbell, PJ Harvey, Steven Stills, Keith Richards and Brian Jones have all played them, but for me, the most iconic image is that of Phil Manzanera with the original and dare I say greatest lineup of Art Rock giants - Roxy Music.
I have never owned a Firebird and only played one a couple of times but it looks like I am in good company.
---
VIBES is a reader-supported guide to life, culture, music and current affairs accompanied by a weekly music-inspired podcast. Both free and paid subscriptions are available. If you want to support our work, the best way is by taking out a paid subscription.
---
The pickups
One totally unique feature of the Firebird is the pickups.
Most people think these are the same as the mini-humbucker that you would find in say a Gibson Les Paul Deluxe. This is not the case. They are a totally different design and have a very distinctive tone.
It's all about the magnets
Mini-humbuckers are appropriately named since they are just a smaller version of the ubiquitous PAF humbucker. They consist of a single magnet underneath each coil, adjustable pole pieces, and a ferrous metal bar under the assembly.
Instead of external magnets, Firebird guitar pickups have bar magnets for each coil inside the bobbins, with one coil wound south up and the other north up. They have a thin ferrous metal plate for both bobbins and two maple spacers between the bobbins and the bottom plate for the braided lead wires. The difference in the magnets gives this unique pickup a much different magnetic field shape, resulting in a brighter sound.
Neil Young
Famously, Neil Young has a Firebird pickup in the bridge position on 'Old Black' - his main guitar, which even has its own Wikipedia page!
Use seven minutes of your life wisely and watch a live version of one of my favourite Neil Young & Crazy Hoses tunes featuring 'Old Black'.
Killer.
Gibson or custom?
I remember somebody commenting a few years ago that I had a very eclectic guitar collection. I don't own a standard Les Paul or 'real' Fender Stratocaster and tend to select things that do the job, finding great joy in having custom guitars made for me.
The secret to having something built is to really know what you want. This sounds easy until you try and do it and dig down into the detail.
Due to my big fat fingers, one thing I always request is a wide fingerboard and thin C/D or soft V-neck profile, the thinner the better. The Fender Nocaster mentioned above is a like a baseball bat and difficult to play, but the tone is truly wonderful and worth the considerable pain.
Weighing it up
So, when looking for a Gibson Firebird the first thing I did was research the potential problems:
Neck dive: the headstock and tuners on Gibson are massive and heavy. Suzy's T4 was designed by the late great Mike Lull to avoid that problem and is balanced beautifully

'Glassy' sounding pickups: of course, I want the sound of a Firebird but they can be like an ice pick in the ears and believe the latter, more affordable reissues, feature Alnico V magnets which can be very bright and have quite low output

Tuning stability: The banjo tuners on the originals are not the greatest. The combination of these and a Vibrola vibrato arm is not a match made in heaven
Considering all the salient points above and after much deliberation I decided to go the custom route.
The Springer Guitars Firehawk
A few months ago I happened to be chatting to the wonderful Nick Huber from Huber Guitars and mentioned the custom build I was looking for. Huber don't make this type of instrument, but he did suggest a small, one-man operation in France - Springer Guitars.
The one man in question is Mikael Springer and I contacted him to discuss the possibilities. We discussed the project and set the specification…
Guitar specification
Body: solid body, Spanish cedar, belly cut

Neck: set neck, Spanish cedar (neck profile: thin 'C' -tapers from approx. 21-23 mm

Headstock veneer: Black fibre, two-steps black/red design

Fingerboard: 25" scale, aged Indian rosewood with 12'' radius, no binding, cream dot inlays and nickel silver, extra hard frets

Pickups: two Firehouse pickups by House of Tone

Tuners: Kluson style

Bridge: ABR-1 Style with a short Vibrola

Electronics: two volume, two tone with 500 kΩ potentiometers, .022µF Mallory Mustard capacitors and 3-way toggle switch

Colour: Cardinal red, nitrocellulose, high gloss

Pickguard colour: vintage white/parchment with custom logo

Hardware colour: gloss nickel

Nut: unbleached bone

Case: Springer/Boblen hardshell case
Pickups
As you will read later, the most important tone decision made in a solid body electric guitar is pickup selection and I love custom wound pickups, with many of my guitars fitted with Lindy Fralin's.
This time I asked House of Tone Pickups to custom-make a set specifically for this project. Based in Chester, England, House of Tone (what a great name) is the brainchild of Matthew Bascetta and quite simply, they make sonic works of art.
A couple of years ago, he personally rewound the four pickups in our Mosrite Ventures model 6/12 double neck.
More recently, he custom-made two Heavy House P94's for the Duesenberg D6 baritone that I record through a real Leslie 145, which has a very thick low end. I mentioned this issue to Matthew who subsequently sent us components and a circuit diagram for a passive bass roll-off control which works perfectly, thinning out the monstrous tone so it sits wonderfully in the mix. Loving his work here.
I love this guy as he spends lots of time discussing your requirements and then coming up with the goods with no fuss - on time - every time.
Firehouse
I am still ruminating about what amps to use on tour, but will probably go for two 1960 Vox AC30s (a 1964 and 1968 top boost) or two Germino heads (Club 40 and Classic 45) and 4x12s.
Either option can be pretty toppy and as I mentioned earlier, Firebird pickups can also be bright and need to ensure the combination doesn't give the first five rows of the audience an unexpected and probably unwanted haircut!
I am considering running in stereo and sorting the pedalboard as I go along, which will be the focus of a future article.
Having talked with Matthew we decided to use Alnico II magnets which are clear and punchy with sparkly treble and a nicely rounded low end - just like the early Gibson designs.
Due to the bobbin size, the maximum resistance using 42 awg wire is 6.5 kΩ, but the tight, concentric wind increases the inductance and capacitance, making them a bit smoother and hotter than the Nocaster bridge pickup.
Timber
Before the specification was agreed we discussed wood.
Correct choice is vital in semi-solid and acoustic guitars but amongst musicians and luthiers, there has always been a great deal of hoo-ha about timber in solid-bodied guitars.
My opinion is that the only difference it makes is the weight and possibly the tendency to resonate when using controlled feedback (which I use a lot).
There is a grey area when it comes to a guitar with pickups mounted on the scratch plate as there is a resonant chamber underneath and the guard itself vibrates and at high volume. I know, my Flying V does this.
Mikael uses Spanish cedar because it's very stable and lighter in weight than most Honduran mahoganies. As far as I am concerned, providing I can get it through International customs and not fall foul of the CITES1 regulations, it's good enough for me.
My normal preference for fingerboards is ebony but Mikael suggested a special old rosewood as ebony tends to be brighter and from what I can gather, we don't need any more bite! It appears that my new guitar also comes with some special and apt words - he related this story to me:
The fretboard is the old rosewood which had been stored for years in Germany laying on some newspaper and the printing ended up being 'transferred' on the wood, so as I cut the fretboards out of it a few years back, each board end had a small piece of French wine reviews in German language printed on them.
---
Stage one - the neck and body cutout
It's now the end of July and Mikael sent some pictures through of the body blank and neck, pre and post fingerboard.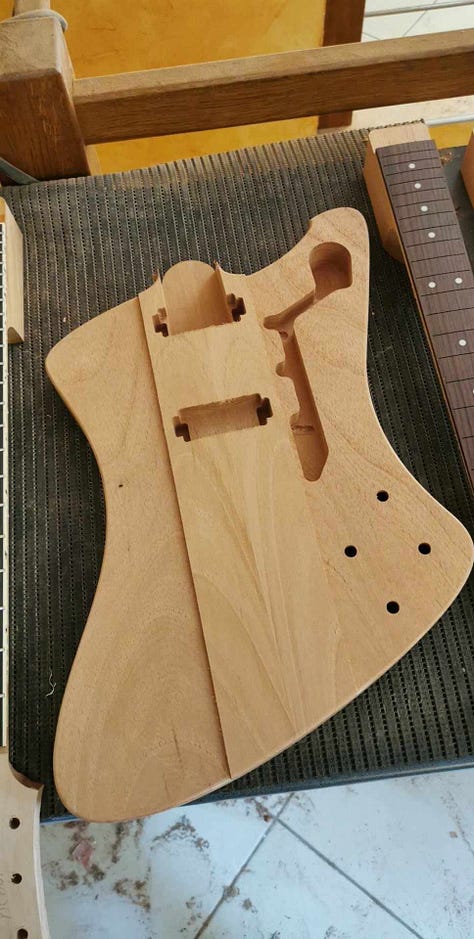 Stage two - dry fit then glueing the neck to the body
A couple of days later checking the neck joint dry - before the glue was applied to check the fit - then gluing and clamping.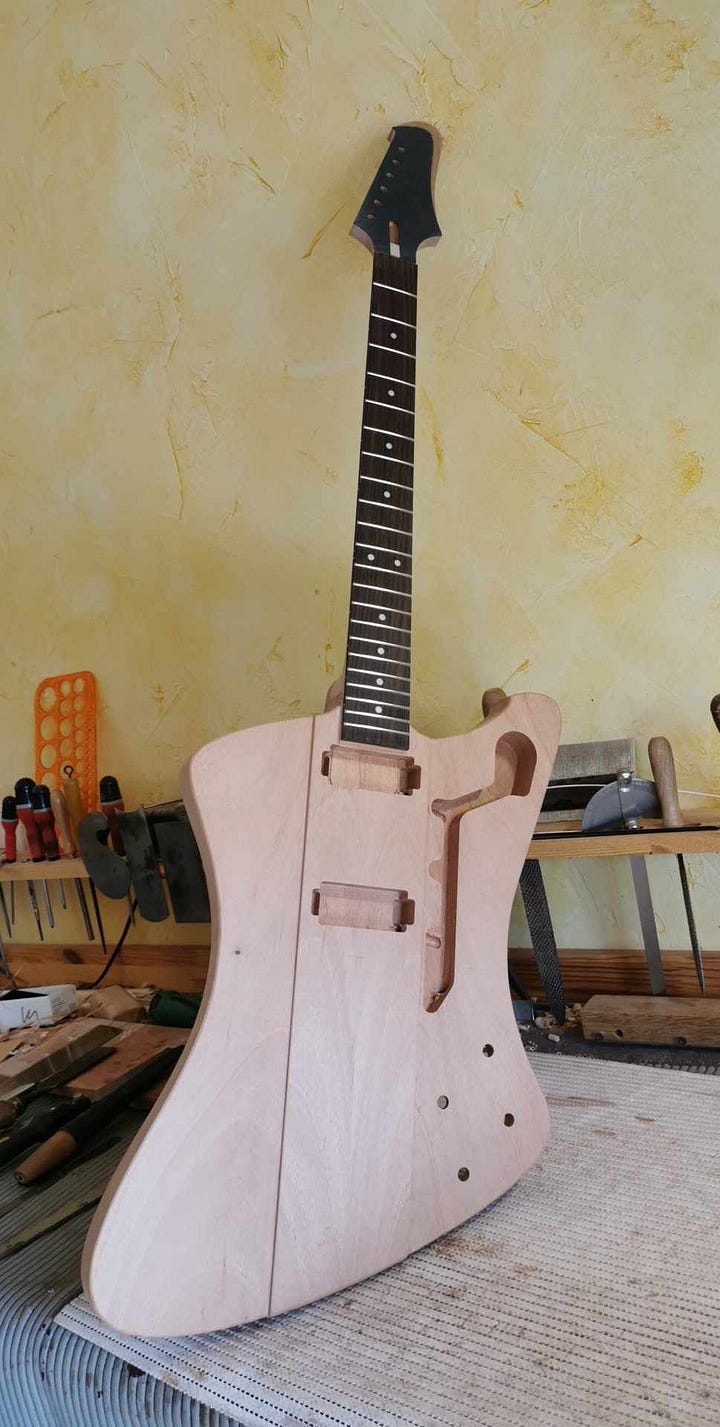 So, that's where we are right now. The instrument should be ready by early September and will publish the second part when I receive it.
Excited? You bet…
---
Addendum
For ease, here is a link to the second and final part of the story. Added November 16, 2023.
And finally…
I hope you have enjoyed this article and look forward to receiving your thoughts and questions. It's easy, just subscribe - for free - and comment!
If you want to see the machine in action, join us on our 16-date UK headline tour starting on September 29th, 2023 at the Pioneer Club in St Albans and ending at Coolham Live Music Club on Saturday, October 14th which is already sold out (holy shit).
---
Working on: the set for the tour - rehearsing and getting the sounds together, plus of course recording our weekly podcast and writing these articles!

What's cooking: Home made Chinese with turkey, ginger, fresh red chillies, Pak Choi, carrots, red and green peppers, yellow onions, garlic, fresh root ginger, a strange variety of king oyster mushroom and lashings of black pepper and soy sauce.

Listening to: Blur - The Ballad of Darren
VIBES is a reader-supported guide to life, culture, music and current affairs accompanied by a weekly music-inspired podcast. Both free and paid subscriptions are available. If you want to support our work, the best way is by taking out a paid subscription.